Extraordinary Cruises
Click here to read more about "Commodore" Camille's cruise adventures.

Cruising Post-Pandemic
By "Commodore" Camille Pepe Sperrazza

Virgin Scarlet

There are a lot of positive things to be said about the brand new Scarlet Lady, Virgin's dive into the cruise industry.
I sailed for five nights, October 2021, on one of the first cruises out of Miami - and also enjoyed a full day aboard when the ship visited New York in September.
For a limited time, The World Awaits Travel can offer an exclusive discount to the first eight cabins, balcony or above, booked with us.

Hits:
The ship is for adults only. If you are a teacher who must travel when school is closed, this is HUGE. No kids underfoot. No tots splashing in the pool. No teens to contend with. No chance of running into students on board.

A lot is included with the basic price of the cruise - non alcoholic drinks, all tips, and basic WiFi. That makes cruising with Virgin a very good deal.

The food at the restaurants was served hot - not lukewarm - a pleasant and welcome surprise.

There is no main dining room. Instead, there are many small specialty restaurants - Mexican, Korean bbq, Italian, and more, without extra cost (although some dishes have upcharges). All excellent quality. Notable is The Wake, serving American fare. Our waiter brought us every side dish in the menu, and they were all so good, it is impossible to name a favorite, but the thick French fries were spectacular. High marks to Extra Virgin, the Italian restaurant, for its charcuterie board and table-side gelato cart, with the works. Don't miss the views and small bites at The Dock House, at the back of the ship. Sit outside where you can sip and eat, mesmerized by the trail of blue ocean. Musicians pop up unexpectedly to serenade passengers.

When we docked in Cozumel, Virgin provided its own ferry service to take us back and forth to Playa del Carmen, all at no cost. Very generous, and unheard of in an industry that often charges a small fortune for tours and transfers.



Misses:
Embarkation process needs improvement. Our plane landed at 10 am, and we didn't board the ship until 2 pm.

Virgin wants you to live and die by its app, making all reservations for restaurants and activities there. The problem is the app doesn't work properly, Internet service at sea is always a challenge, not all activities were listed, and the app itself contained wrong information. One example: the app stated it cost $75 to attend a show, but it was actually free. Some couples, believing there would be a $150 charge, didn't attend. Worse is that when I asked Guest Services if the show cost $75, I was told, "Yes, all the shows cost money." This didn't sound right to this veteran cruiser, and sure enough, all shows were free. Hopefully, these kinks will be worked out.



Warnings:
I had a balcony stateroom which contained the smallest bathroom I can remember. Book a suite for a few dollars more as the bathroom there is more spacious.

This was my third post-pandemic cruise in less than 60 days. Strict covid protocols were in place for the first two that left from the New York area. Although Virgin did require everyone to take a covid test at the pier, guests did not have to wear masks on board, and staff members were also maskless at times.

There is no main theater, and entertainment is a bit unique. One example is a show called, "Never Sleep Alone." It is based on a book by the same name, so you can look it up



Oasis of the Seas, September 5, 2021
As passengers boarded the Oasis of the Seas on the first cruise out of the New York area since the pandemic shut down the industry, the man behind me shouted, "I have that feeling!"
He then broke into a mini dance, stamping his feet and raising his arms.

We all turned, giddy with laughter and excitement because we, too, had "That Feeling" - the anticipation of the motion of the ocean; the salty winds; and the incomparable sunsets, courtesy of our balcony views as we glide along the seas.

While cruising, worries fade, as the ocean reminds us that we are mere specks, barely a ripple across the water's unending surface.

For a moment, there is no pandemic. The stress of death, sickness, and the horrors of the last year and a half melt.

What's contagious aboard this ship is "That Feeling."

It has infected the passengers and the crew.

It is so damn good to cruise again.

Copyright: Camille Pepe Sperrazza

Royal Caribbean Oasis of the Seas on-board covid-19 protocols, September 2021.


Many have asked about the Covid-19 protocols aboard the first sailing. Below are some details, but please remember that they are ever-changing and evolving, so your cruise may be different.

To board, I presented proof of vaccination, proof of a negative Covid test, and my passport.

Royal allowed families to cruise, some with children too young to be vaccinated. (I was surprised to see so many pre-school children, including several under age one). As a result, in an effort to keep everyone safe, there were areas of the ship open to all, and many available only to the vaccinated.

For example, I was assigned dining room seating for vaccinated guests, and there were shows, lounges, and music venues open only to the vaccinated. (The unvaccinated passengers were seated on a separate deck of the theater).

Ice skating shows were open to all - and then, often at later times of day - there were performances scheduled for vaccinated passengers only.

How is it known that you are vaccinated? When you present your proof at the pier, you are provided with a bracelet to wear. Is it crazy keeping track of what area is open to whom? Not really. There were signs posted at entranceways; it was defined in the daily guide; and if you download the app (highly recommended), you could plan accordingly.

I brought plenty of my own masks and sanitizer, but two masks and a small bottle of hand sanitizer were waiting for me in my cabin when I boarded.

Masks were required to be worn when indoors, unless actively eating or drinking; however, masks were not required at the indoor venues where only the vaccinated gathered. As an extra pre-caution, I usually wore mine at the shows anyway.

Guests did not have to wear masks outdoors, but staff wore them all the time, the exception being performers who were singing and dancing.

Numerous hand-washing stations have been installed. Expect to be asked to wash your hands before entering dining establishments. In addition, there were Purell stations throughout the ship where guests were asked to disinfect before entering the theater, casino, lounges, and more.

The buffet was open for breakfast and lunch, but no guest touches the food or drink station, a measure that should have been adapted years ago! The main buffet was not open for dinner on my sailing.

Tables in all smaller dining establishments were marked by signs that indicated when they were clean and available for passengers to use.

Contact tracing measures were in place, as key cards were swiped when entering/exiting some venues.

I was happy to see these protocols in place, and felt they did not distract from the enjoyment of the cruise. I did see someone complain that he had just washed or disinfected hands at a previous station, and argue about the need to do so. I was glad the staff insisted, very politely, that it be done again anyway.

My own observations: There were plenty of older guests on board, some with obvious health issues, yet they were seemingly unafraid to cruise. This summer I confined my travel to U.S. destinations because of the ever-changing entry protocols of other countries; sudden lockdowns; possibility of false tests that could send one to a covid facility and/or delay one's entry back home; potential flight issues; and state department warnings. But the Oasis of the Seas sails from NJ, and I felt confident that being denied entry back into that port would be as rare as being struck by lightening.

There was plenty of open outdoor space - I loved the Solarium area for its beauty, comfortable lounge chairs, and outdoor dining area.

If you are hesitant to dine indoors, with a little planning, you can opt to eat outdoors the entire cruise, and since the ship is its own destination, no one will insist you disembark at any port until you're back in Jersey. Then you won't want to leave.

Click here to read more about "Commodore" Camille's cruise adventures.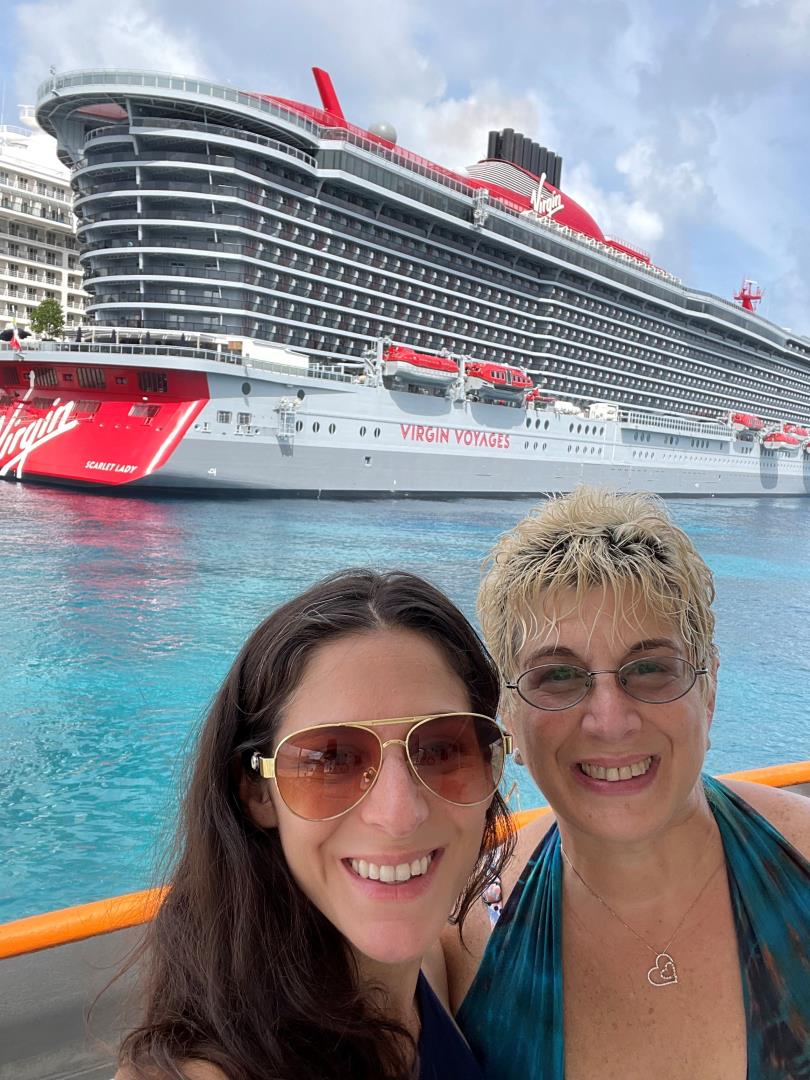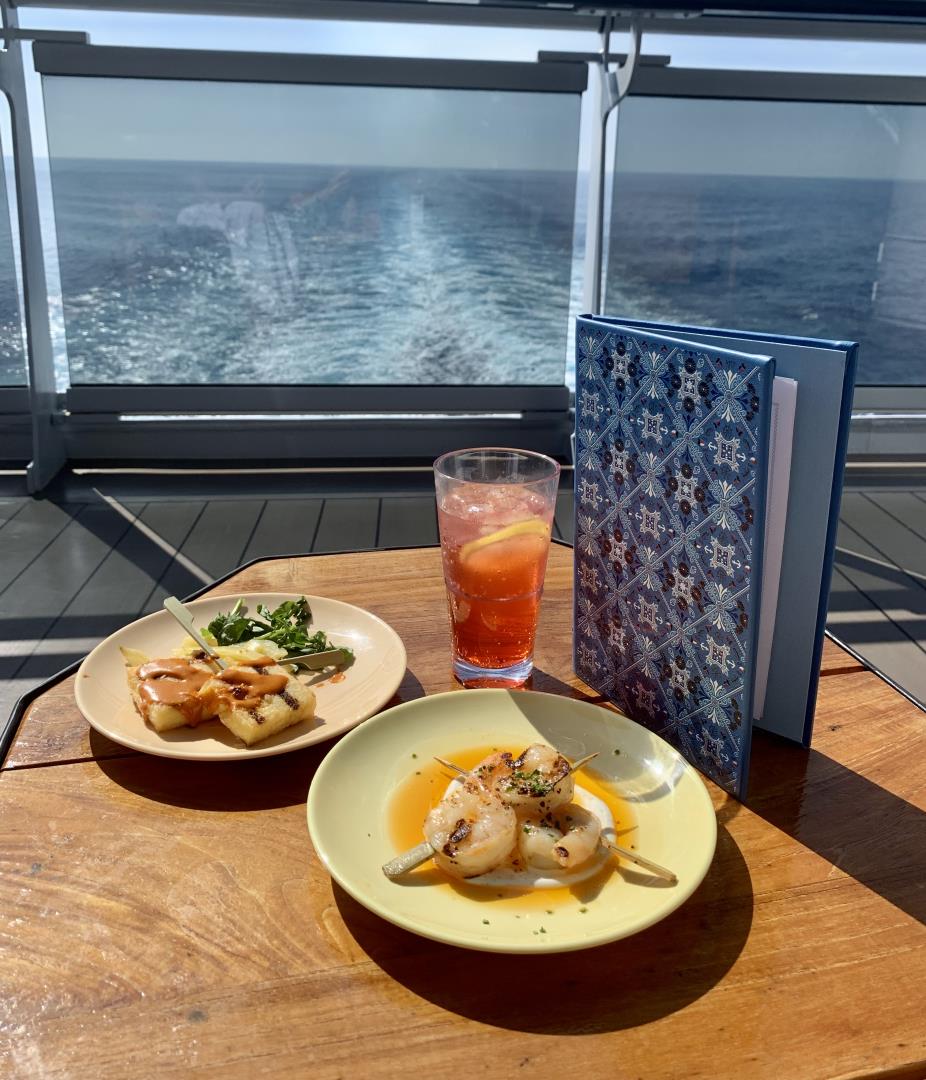 For more information or to book a trip, contact "Commodore" Camille today.
This article was accurate when it was written, but everything in life changes. Enjoy the journey!
Copyright: Camille Pepe Sperrazza